Representation | Legislation | Advocacy
Executive Order Allows Some Delay on Property Tax Payments
Last week, Governor Polis issued a series of executive orders to ease the burden of the COVID-19 economic disruptions on businesses and individuals. In one such order, Polis authorized county treasurers to temporarily waive interest on delinquent property tax payments through April 30, 2020. Under this executive order, property owners can file half of what they owe by April 30th, and make payments to pay the remaining balance through June 15th, without penalty.  Mesa County is participating in this order and property owners simply need to pay at least one half of their property tax payment by April 30th to take advantage of this delay.
For more information click here.

For all the updates and changes related to taxes, deadline extensions, services and penalties, click here.
U.S. Department of Treasury Release FAQ's on PPP Loans
Last week, the U.S. Department of Treasury, along with the Small Business Administration, released a "Frequently Asked Questions" page to address common inquires regarding the Paycheck Protection Program. The document provides answers for numerous questions including whether or not PPP loans cover paid sick leave, and if CARE Act salary exclusions apply to employee benefits.
To access the FAQ document click here.

For additional information on all the U.S. Department of Treasury's COVID-19 resources, click here.
Senator Bennet to Hold Small Business Telephone Town Hall on April 17th
Senator Michael Bennet will be holding a small business telephone town hall on Friday, April 17th at 1:00 PM. Senator Bennet will be joined by the Colorado Office of Economic Development, Colorado Small Business Development Centers, and the Colorado Division of Labor and Employment to address frequently asked questions and help small businesses access the tools and funds made available by the CARES Act.
To RSVP, click
here
. Call in information will be sent out the day of to those who have registered
Calling all Young Professionals!
Join us tomorrow afternoon, Thursday, April 16th at 2:00 pm, as members of the Young Professionals Network of Mesa County Board and Chamber leadership discuss what roles YP's should be taking during these tough times.
To register for tomorrow's webinar, click here.
Focused on issues facing business owners, employees, and the community, these helpful webinars will be held bi-weekly and are complimentary to attend. Hear from industry experts on a variety of topics as we work to provide the latest news and most accurate resources in our ever-changing day to day operations.
For a full schedule of upcoming webinars, click here.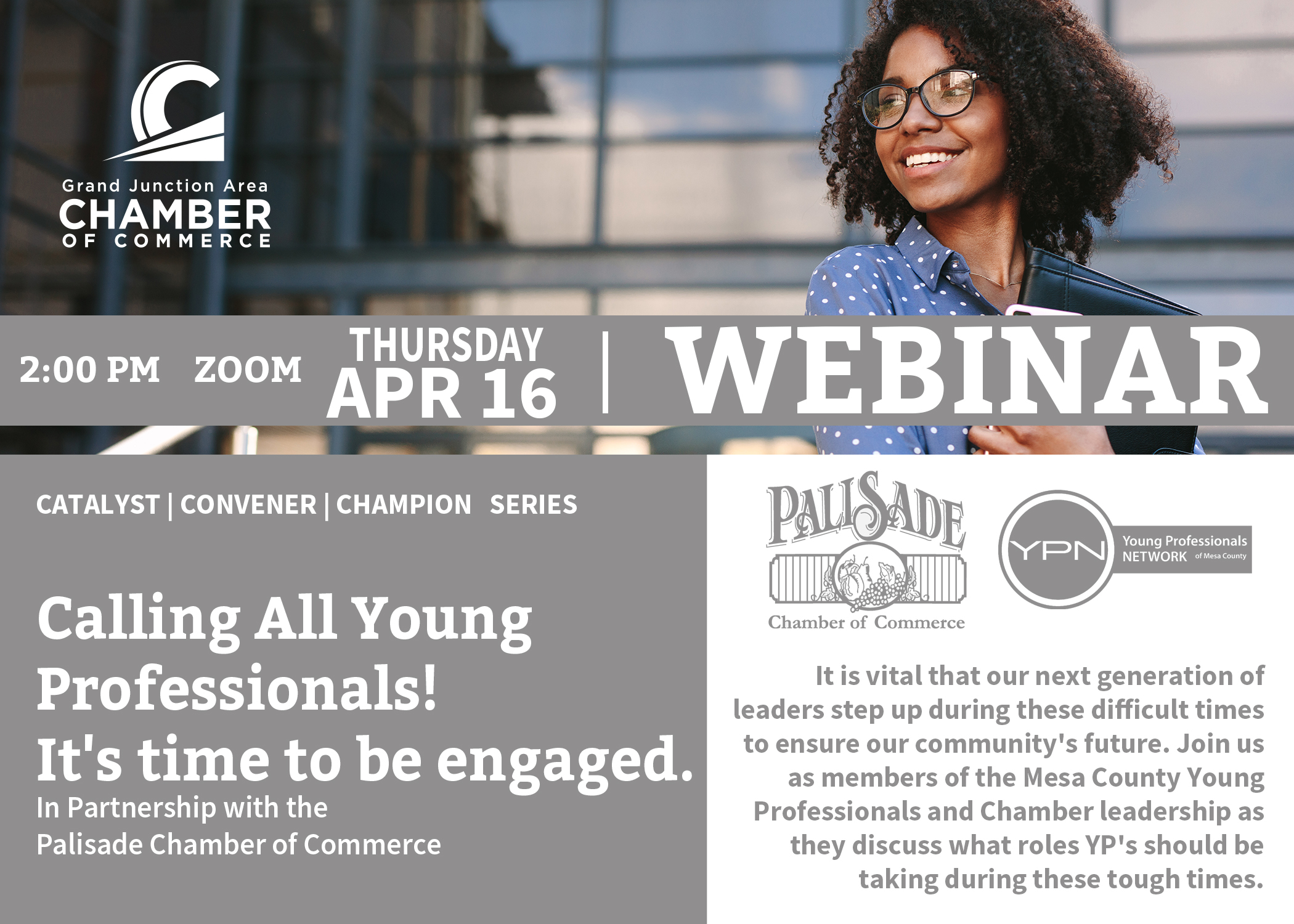 Governmental Affairs Committee Update:
The Chamber's Governmental Affairs Committee will be meeting via Zoom webinar next Tuesday, April 21st at 8:00am. The committee will hear updates from our state and federal delegation regarding any COVID-19 updates and potential legislation.

Thank you to video conference sponsor: Xcel Energy.