Representation | Legislation | Advocacy
Additional Stimulus Funds Approved for Small Business Assistance
The Senate has passed a $484 billion bill to inject additional funding into SBA disaster loan programs — both the Paycheck Protection Program (PPP) and the Emergency Injury Disaster Loan (EIDL) — that will now head to the House where it is expected to pass later this week. The bill comes after weeks of negotiations between Congress and the White House and after the initial funding for the programs was largely exhausted last week. The bill also contains critical funding for testing and hospitals.

The details:
Paycheck Protection Program

Additional $310 billion in funding (on top of $349 billion in CARES Act)
$30 billion carve-out for Insured Depository Institutions and Credit Unions with assets between $10 billion and $50 billion in assets
$30 billion carve-out for Community Financial Institutions, Small Insured Depository Institutions and Credit Unions with less than $10 billion in assets
Additional $50 billion for SBA Disaster Loan Program

Emergency Injury Disaster Loan Program

Additional $10 billion in funding (on top of $10 billion in CARES Act)
Expands eligibility to agricultural enterprises with less than 500 employees

Public Health Funding

$75 billion for hospitals and health care providers responding to the COVID-19 pandemic (on top of $100 billion in CARES Act)
$25 billion for testing, including $11 billion for states, localities, territories, tribes and employers
This legislation is expected to be voted on by the U.S. House of Representatives this Thursday, April 23, 2020.
Commissioners Ask for Mesa County to be Released from Stay-At-Home Order:
On Monday, the Mesa County Commissioners approved a letter asking Governor Polis to release Mesa County from several state orders including the stay-at-home order. This ask is based on the low activity and number of hospitalizations seen in Mesa County related to the coronavirus. If the Governor approves the Commissioners ask, Mesa County will be able to implement its own reopening plan, in a manner and time frame the best meets the needs of the community.

For more information, click here.
Polis Unveils Safer at Home Phase:
During a press conference on Monday, Governor Jared Polis discussed the next phase for mitigating the effects of COVID-19 pandemic, as Colorado prepares to have the over 5-week stay home order lifted. The stay at home order is set to expire on Sunday, April 26th at which point the state will transition to a "safer at home" phase. The main difference is that citizens will no longer be ordered to stay home, but rather encouraged to do so. Half the workforce will be able to return to their jobs, retailers will be allowed to offer curbside delivery and hair salons, dog groomers, tattoo parlors and personal trainers will be able to reopen under strict social distancing guidelines.

For more information, click here.
Business Interruption Insurance & Coronavirus Pandemic:
Within recent weeks discussions over business interruption insurance and whether or not it covers the losses businesses have seen as a result of the pandemic are happening across the country.  Several states have already introduced bills requiring insurers to provide retroactive coverage to the insured for losses resulting from the COVID-19 pandemic. Insurers across the country have noted that business interruption policies are not priced to provide coverage for communicable diseases and include exclusions for that risk. As Congress considers further legislation to mitigate the financial impacts of COVID-19 in the coming weeks, the controversy surrounding business interruption polices will remain at the forefront of the conversation.

For more information, click here.
Helpful Webinar Series Continues!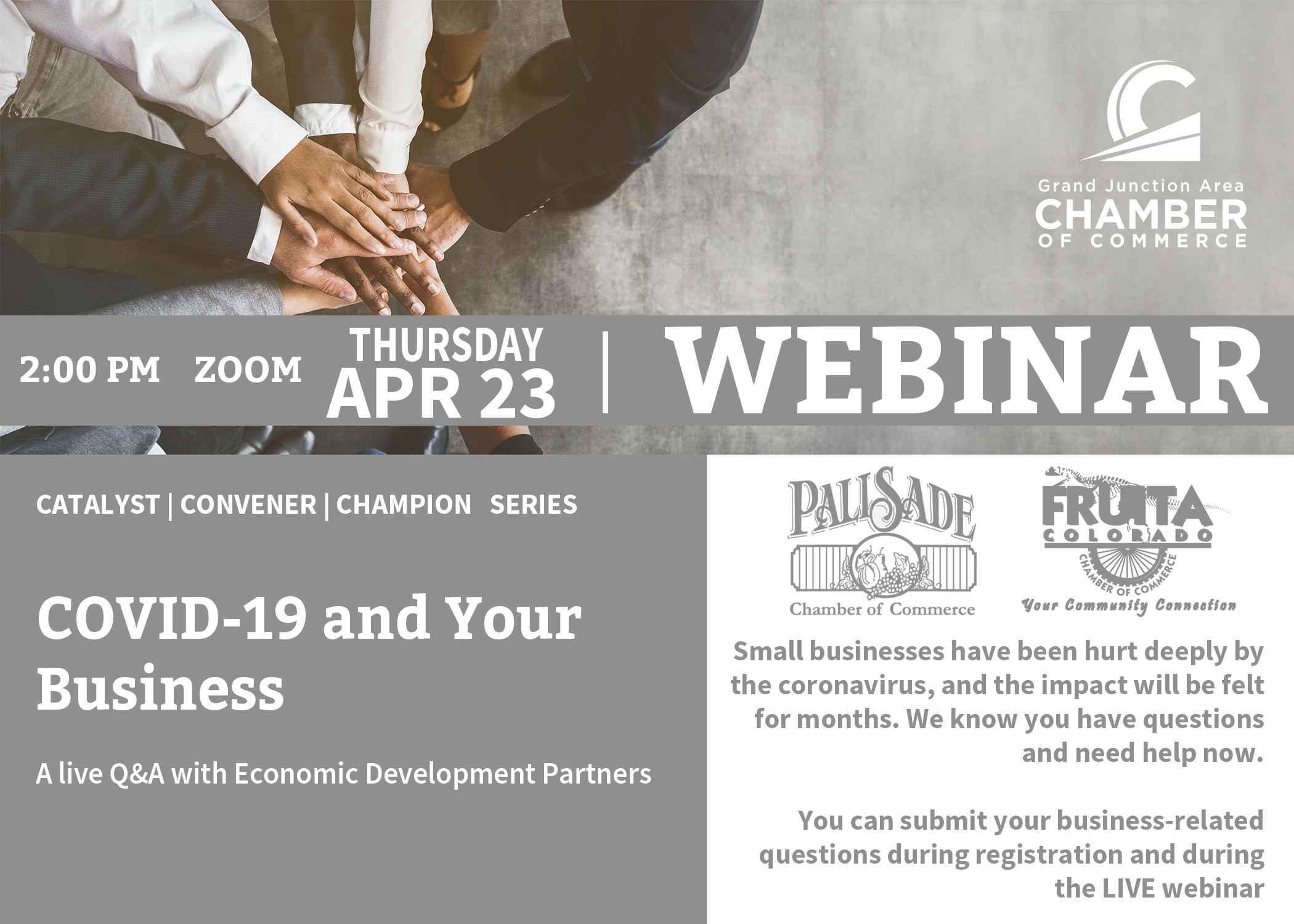 COVID-19 and Your Business:
A live Q&A w/ Business Leaders & Community Leaders

Small businesses have been hurt deeply by the coronavirus, and the impact will be felt for months. We know you have questions and need help now. You can submit your business-related questions during registration and during the LIVE webinar, Tomorrow, Thursday, April 23rd at 2:00 PM.
To register, click here.
Proudly presented in partnership with the Fruita Chamber and the Palisade Chamber of Commerce.

For a full schedule of upcoming webinars, click here. To catch up on all the previous webinars click here.